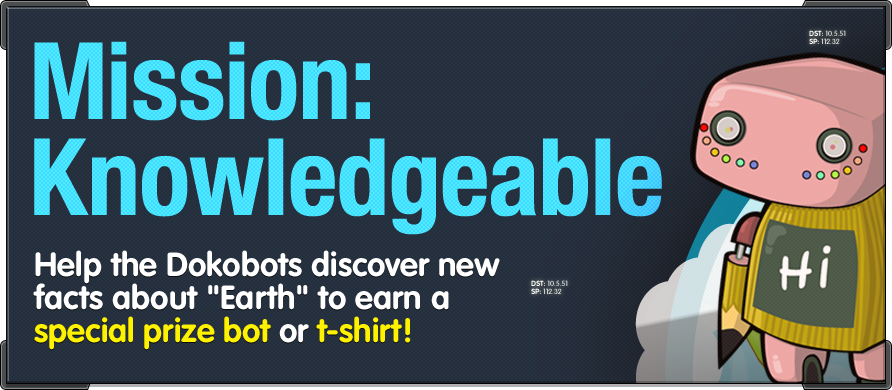 [Incoming transmission from Dokostar Mothership]
Greetings Humans. Thanks to your tireless work, the Dokobots now have a better understanding of this concept called "fun." But there is still much work to be done. It is now time to initiate Mission: Knowledgeable.
The Mothership has ascertained that the younger humans start their educational term about now. Since the Dokobots share this goal of acquiring new knowledge of "Earth," the Mothership is organizing a mission to share this informational harvest.
Your mission is to document at least five new pieces of information you have acquired in at least five entries on five different Dokobots' journals, then share the entries with the Mothership via Dokogeo on Facebook or Twitter.
If all new informational entries match the function asssigned to the Dokobot, and if all Dokobots are activated by other players, you will be elegible for a greater reward from the Mothership.
Thank you, inhabitants of "Earth."
[End transmission]
How do I complete Mission: Knowledgeable?
Use the Scanner to find an active Dokobot in your area. Active Dokobots are easily identified in the Scanner by their open eyes and charming smile. Tap on an active bot's icon to learn more about the bot and its assigned mission.
After finding and picking up an active bot, add a new entry to its journal describing the new fact you discovered, and make sure it stays true to the bot's assigned mission! Once the journal entry is posted, share it with @dokogeo on Twitter or Facebook. Add and share entries for five different Dokobots to earn a prize! The deadline for entries is 11:59PM PDT, September 30, 2012.
What do I win?
Players who create at least five knowledgeable entries on five or more different Dokobots and share each entry earn a special prize bot. Players whose entries are made on Dokobots created by another player and keep each entry true to the bot's assigned mission will earn the prize bot plus a Dokobots t-shirt!
How will I know if I've won?
The Mothership will contact you via Twitter, Facebook, or email to arrange delivery of the prizebot (and t-shirt, if applicable). Completing this mission is the only way to earn this rare Dokobot and shirt!